Village Clean Up. 8th March 2016.
Please meet on the Green at 10:30.
High-visibility vests and picker will be provided.
New Public Rights of Way Map Online .
The War Memorial Restoration .
Definitive Footpath Map On line.
On line Library Services.
Announcements and Links Archive.
Parish Magazine Editor copy
Parish Council Matters

Minutes. News, Plans, Photographs.
Tranparency. Finance, Audit etc
Parish Survey Form Download
e-mail us at: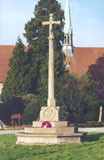 Bayford War Memorial.