Village Clean Up. 2020 Postponed.
New Public Rights of Way Map Online .
The War Memorial Restoration .
Definitive Footpath Map On line.
On line Library Services.
Parish Magazine Editor copy
Parish Council Matters

Minutes. News, Plans, Photographs.
Audit.. Finance, Audit etc
Parish Survey Results page 1 page 2
e-mail us at: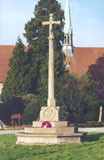 Bayford War Memorial.